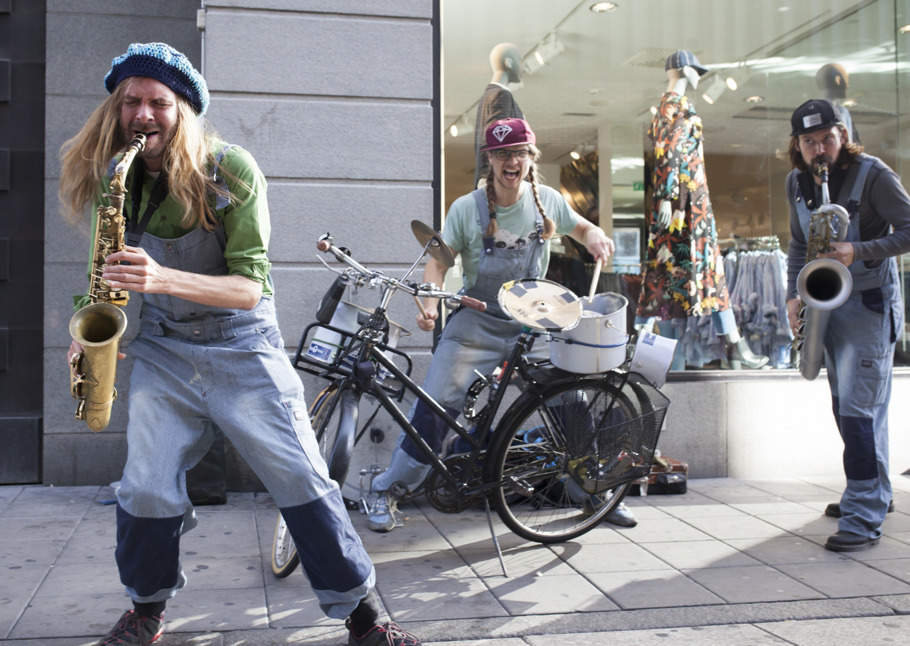 Improvised house, hip hop, afro-beat, jazz and balkan on bike drums, Baritone and Alto saxophone
Bicycle Beat was created in the streets of Stockholm, Sweden in 2015, and we have not left the streets since. We are also doing live shows at clubs, partys, demonstrations, workouts, art exhibitions, shows for children and what not.
On our merit list is a third place at the Swedish championship for buskin 2015, participation in Brazilian and Portuguese TV, hundreds of shows and thousands of Swedish kronor that we have been given from our tip to people in greater need, in the streets of Stockholm.

This winter the trio recorded an album to be released in spring 2017. The band has a tour booked in Denmark and just might be seen in the famous TV show "Sweden's Got Talent"...
.
The band is in constantly developing in interaction with the audience to make music in a playful way. Our vision is make you laugh, dance and sweat, with the bike as a symbol for a sustainable future and the playfulness as our weapon of choice.
BE READY FOR BICYCLE BEAT!
We always give away 10% of the tip from our street gigs to people in greater need of money than ourselves.
To make the streets and scenes all over a better place.