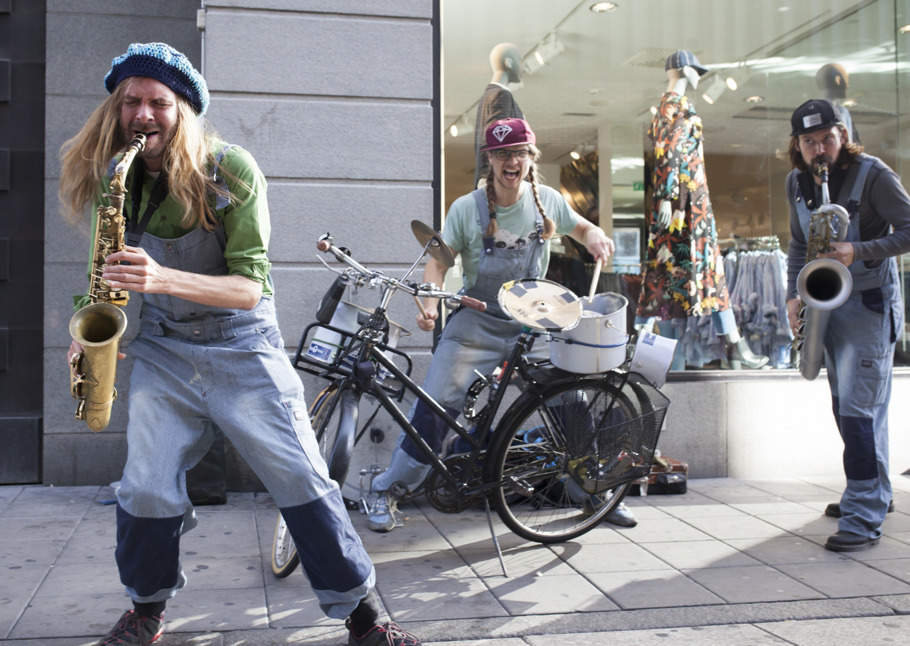 Improvised house, hip hop, afro-beat, jazz and balkan on Bike Drums, Baritone and Alto saxophone. Filled with energy and heart.
Bicycle Beat is a visionary band that was formed in the streets of Stockholm in 2015.
It all started of as something we did for fun, but as people started appreciating what we did, chipping coins, following us, spreading the word over continents and call us to come and play, we slowly realized this was something we could live from, and that people needed fun, interactive live music. Four years later we have been all over Sweden and toured in Scandinavia, recorded an album, been in Swedish newspapers and Brazilian TV, and made a music-environment project called Music for the Planet with workshops and concerts in twenty schools and new material written in collaboration with other artists. We have done hundreds and hundreds of gigs at streets, festivals, clubs, parties, events, demonstrations, workouts, art exhibitions and what not. During these adventures we have discovered something big - music seem to have no borders, it seems to be for everyone: the homeless people who we share the streets with, the activists fighting for a green and just planet, the politicians holding speeches about the future of bicycles, the seniors in wheel chairs, the children dancing along, their parents dancing along as well, and the business people in suits (also dancing along), and everyone in between.
Thanks to the energy you give us we feel inspired to keep on going, spreading our groove, energy and love. We believe in the importance of big visions, and in people who follow their Heart. If you follow yours, we promise to keep following ours.
Thank you all, and see you in the streets!
To inspire, lift and connect humanity with funky grooves, raw energy a lots of fun.
We always give away 10% of the tip from our street gigs to people in greater need of money than ourselves.

Reuse, reduce, recycle - and cycle!
To use bicycles, tin cans, barbecue lids and other "trash" as insruments is part of our concept, always lookng for new creative way to use "useless" things as great instruments.
Also, of course we go by bike yo our gigs when possible, and otherwise train.